Miło mi poinformować, że w dniu 17 października 2020 r. Hodowla Psia Jura FCI powitała na świecie szczenięta ogara polskiego z MIOTU "N".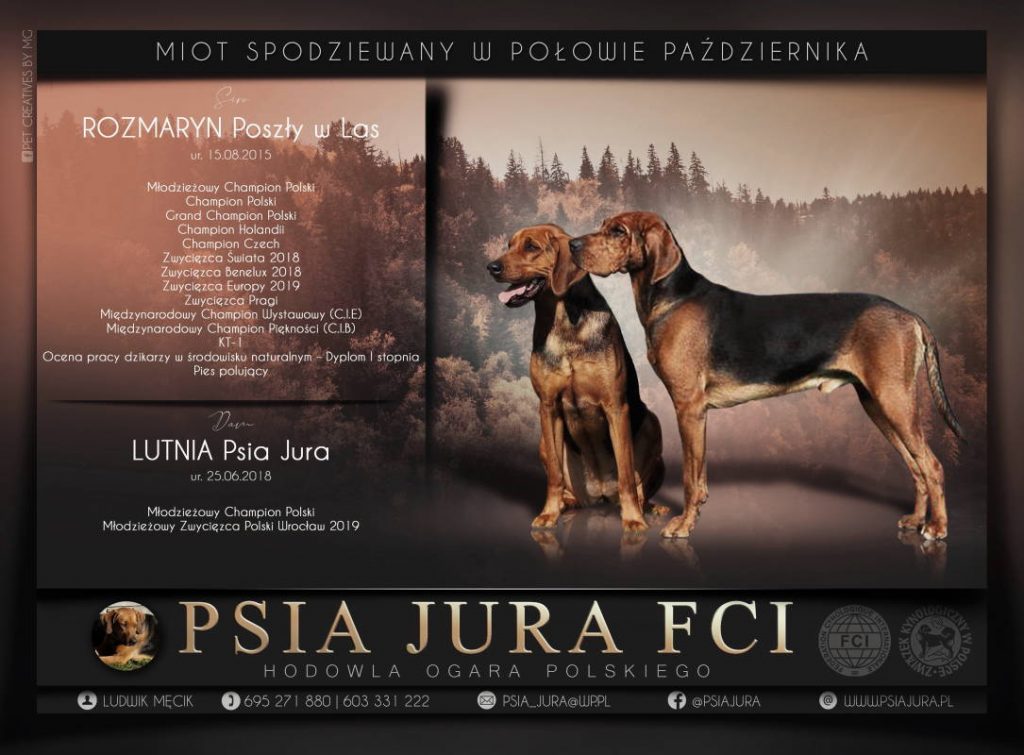 Zapraszamy miłośników rasy do kontaktu w sprawie zakupu szczeniąt rasy OGAR POLSKI (grupa VI FCI).
Szczenięta z mojej hodowli są zrównoważone, przyjazne oraz specjalnie socjalizowane do kontaktu z dziećmi.
Zapraszam do oglądania fotokroniki z życia czworonożnych pociech ! Tradycją mojej hodowli jest to, że zawsze po ukończeniu przez ogarzątka kolejnego tygodnia życia zamieszczam ich zdjęcia. Śledź ze mną jak szybko rosną !
Zdjęcia szczeniaczków oraz filmiki można obejrzeć w zakładce "POTOMSTWO – MIOT__N__2020" oraz na naszym kanale YouTube i FB. Informacje hodowlane dostępne są w zakładce "POTOMSTWO".
Hodowla Ogara Polskiego "Psia Jura FCI" zarejestrowana jest w Związku Kynologicznym w Polsce Oddział w Częstochowie.
Hodowla powstała z miłości do ogara polskiego i ma charakter hobbystyczny.
Jako wielbiciel ogara polskiego przywiązuję ogromną wagę do prawidłowego rozwoju zdrowia fizycznego i psychicznego moich czworonożnych podopiecznych. Zanim maleństwa opuszczą rodzinny dom nieustannie pracuję nad ich socjalizacją (szczeniaczki uczą się wielu pożytecznych zachowań zarówno od domowników jak i swojej mamy). Ogarki z mojej hodowli świetnie odnajdują się zarówno w warunkach domowych jak i podwórkowych.
Pragnę zaznaczyć, że sprzedaję zdrowe i zadbane pieski, które są dla mnie jak członkowie rodziny, dlatego zastrzegam sobie prawo wyboru kupującego, tak aby szczeniaczki trafiły tylko w dobre i kochające ręce.
Każdemu nowemu właścicielowi służę pomocą w wychowaniu szczeniąt, również w ewentualnym stawianiu pierwszych kroków na wystawach.
Ogarki opuszczając rodzinny dom będą stosownie do wieku zaszczepione, odrobaczone, zaczipowane, będą miały książeczkę zdrowia, metrykę ZKwP i wyprawkę na dobry początek.
Dla nowych właścicieli do wglądu będzie protokół przeglądu miotu.
Serdecznie zapraszam do zapoznania się z moją hodowlą. Ogar polski to rasa wyjątkowych psów, których charakter oczarować może każdego.
OGAR POLSKI (Polish Hound) – FCI 52
– polska rasa psów myśliwskich
– spokojny i zrównoważony
– niezwykle towarzyski
– bardzo dobrze sprawdza się w kontaktach z dziećmi
– łagodny do innych psów i zwierzat
– respekt budzi jego wzrost i masa a nie agresja
– uwielbia spacery
– łatwo i chętnie się uczy
– bardzo odporny (rzadko choruje)
– łatwy w pielęgnacji
Nasze sunie to:
LUTNIA Psia Jura FCI
rasa: ogar polski, data urodzenia: 25.06.2018r.
Chip: 616093900605850, Nr Rodowodu: PKR.VI-22982
Rodzice: RAKSA z Huculskiej Łąki/GROM z Sarmackiej Tradycji FCI
Tytuły: Mł.Zw.PL Wrocław 2019, Mł.Ch.Pl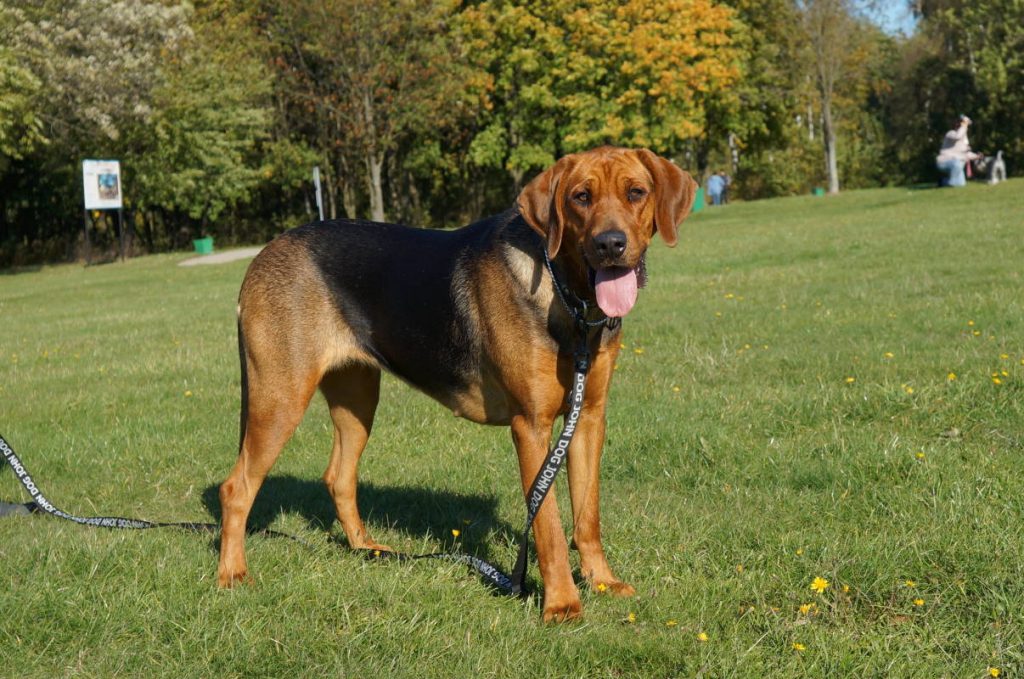 RAKSA z Huculskiej Łąki
rasa: ogar polski, data urodzenia: 31.12.2011r.
Nr Tatuażu: 018U, Nr Rodowodu: KW.VI-627/OP
Rodzice: HERA Olfactus/ORFO pod Egidą Lamii FCI

Zarówno LUTNIA jak i RAKSA to ogarzyce o nienagannej psychice: niezwykle przyjacielskie, rodzinne (wychowują się z dziećmi), spokojne i zrównoważone.
Masz jakieś pytania napisz lub zadzwoń: adres e-mail i numer telefonu znajdziesz w zakładce "Kontakt".
UWAGA !
Związek Kynologiczny jest jedyną organizacją kynologiczną w Polsce – zrzeszoną w Międzynarodowej Federacji Kynologicznej (FCI) z kilkudziesięcioletnią tradycją, gwarantującą czystość rasy od wielu pokoleń wstecz, której rodowody uznawane są na całym świecie.